Many people interested in orthodontics for themselves or their children worry about the cost. They believe that the cost of braces or clear aligners are out of their reach. Luckily, the price of orthodontics has dropped steadily over the last 30 years. Braces or clear aligners can range from $3,000-$7,000, depending on the treatment options and length. Today's orthodontic offices also have many more payment options, such as dental insurance coverage and payment plans. Braces and Invisalign are much more affordable than you might think.
Sacks Orthodontics has several ways to pay for your orthodontic treatment because we believe everyone should be entitled to a beautiful, healthy smile. We offer our patients several options to make orthodontics more affordable, from accepting most major insurances to having zero-interest in-office financing.
What Are My Options for Braces or Clear Aligners?
When you hear "braces," you likely think of traditional metal braces and probably those bulky 1980s braces. But today's braces are not only less expensive, but they're also smaller and more efficient. They also are not the only option you have nowadays for braces.
Sacks Orthodontics offers three options when it comes to braces. We have 3M metal braces, clear ceramic braces, and LightForce braces. We also offer Invisalign, clear aligners that gradually straighten your teeth. All of the options have proven results, and each one is an excellent choice for getting your perfect smile. For some, deciding on the type of orthodontics is based on the cost. So what is the average cost of braces and Invisalign? Let's break it down.
Traditional Braces
Traditional metal braces are a tried-and-true method for straightening teeth and addressing orthodontic issues. The cost of metal braces tends to be lower than other options, which is why some patients still prefer them over more modern options. The average price of traditional metal braces is between $2,500 and $7,000, depending on the length and complexity of your treatment.
Clear Ceramic Braces
Many patients want braces but don't care to have a "mouthful of metal." That's why we offer the option of clear ceramic braces. These braces are made to blend better with the natural color of your teeth, so they're less visible than traditional metal braces. The average cost of ceramic braces is slightly higher than traditional metal braces, between $4,000 and $8,000.
LightForce Braces
LightForce Braces are a modern version of braces custom-designed for each patient. Each bracket of LightForce braces is 3D printed to fit each tooth exactly, unlike metal or ceramic braces. The special software determines the shape of each bracket and where to place them to achieve maximum movement with minimal discomfort. The good news is, at Sacks Orthodontics, LightForce Braces cost the same as our traditional braces!
Lingual braces
Lingual braces are another type of braces that sit on the inside of your teeth instead of outside. They're invisible, but they tend to cost more than traditional braces, and some patients have reported problems speaking with lingual braces. That's why we prefer the more traditional style of braces.
Invisalign
We also offer clear aligners from Invisalign and Invisalign First. In fact, we are a Diamond+ Provider, which is a top-tier level provider of Invisalign! Plus, we are a provider of Invisalign First, designed to help kids ages 6-10. Though some orthodontists cannot offer Invisalign for more complex dental cases, Dr. Sacks's Invisalign expertise allows him to treat even the most complex cases with Invisalign. The best part is that Invisalign is comparable in cost to clear ceramic braces, so you have great options for low-profile orthodontic treatment.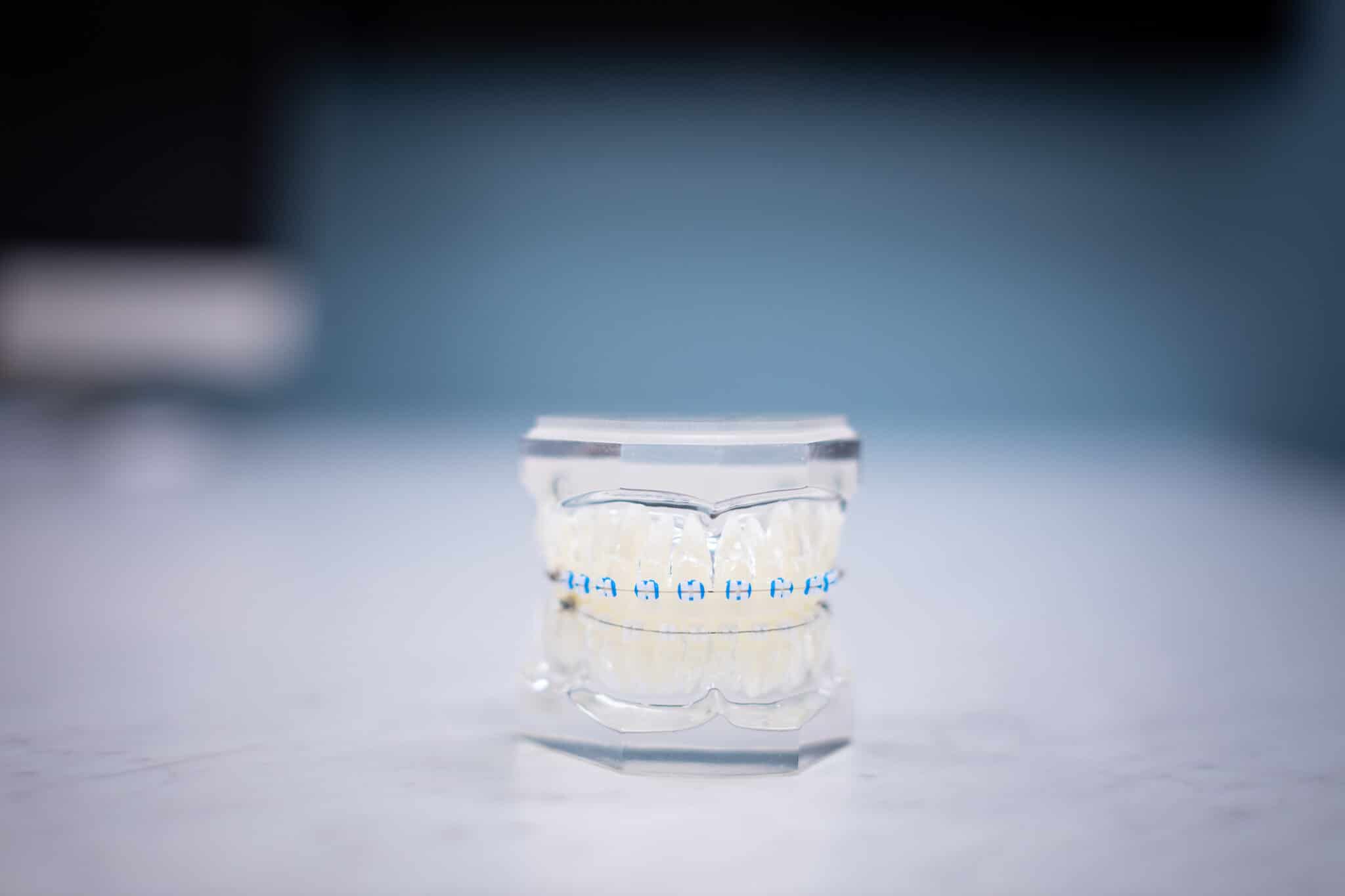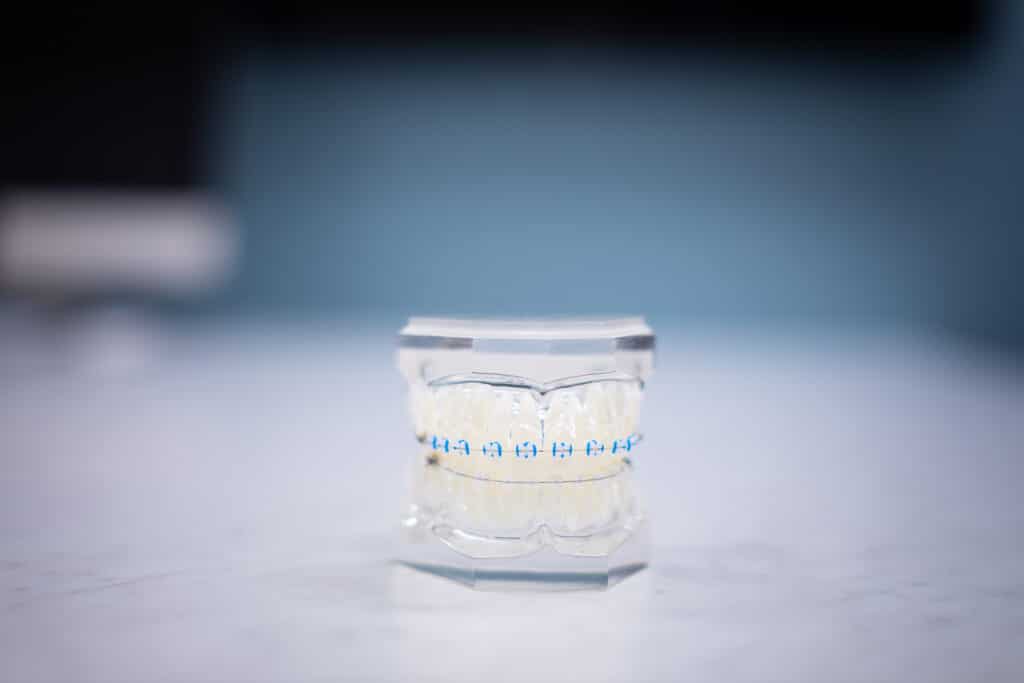 What Is the Cost of an Orthodontic Consultation?
What if you want to know more about orthodontic treatment? The first step is to get a consultation with an orthodontist. I'm sure you're wondering how much that is going to cost. At Sacks Orthodontics, your initial orthodontist consultation cost is very affordable — because it's free! That's right! When you come to Sacks Orthodontics to learn about getting treatment with braces or Invisalign, you pay no cost on your initial, no-obligation consultation.
You're probably thinking "free" means a couple of questions and then a long list of prices for your treatment. That's not the case. When you come in for a free, no-obligation evaluation, you get a thorough examination by our team.
There are no high-pressure sales pitches here; we want you to feel comfortable. We will make it work. We want you to have the smile you want and deserve. - Dr. Sacks
You can expect a tour of the office upon your arrival, so you'll know where you or your child will be for each appointment. Our team members will look at your teeth using a physical exam and state-of-the-art imaging equipment. These scans will be able to show you what your smile will look like at the end of treatment, so you know what to look forward to. We'll then break down your treatment plan to show each phase, the cost of treatment, your treatment options (such as braces or clear aligners), and your expenses.
We'll lay out all your costs upfront, so you know exactly what you'll pay for every aspect of your treatment, from getting your braces or Invisalign to getting your retainers near the end of your treatment. So if you want to know how much it costs to see an orthodontist on your first visit, we have an easy answer — nothing!
What Does an Orthodontist Visit Cost?
You're probably wondering about the orthodontic checkup cost. Will it be extra on top of the cost of your braces? Once again, you don't have to worry about this cost! It's included in the total price of your treatment! You don't have to pay for each visit separately. And yes, that means your quick visits to trim up a wire or rebond a bracket are also included in the treatment price!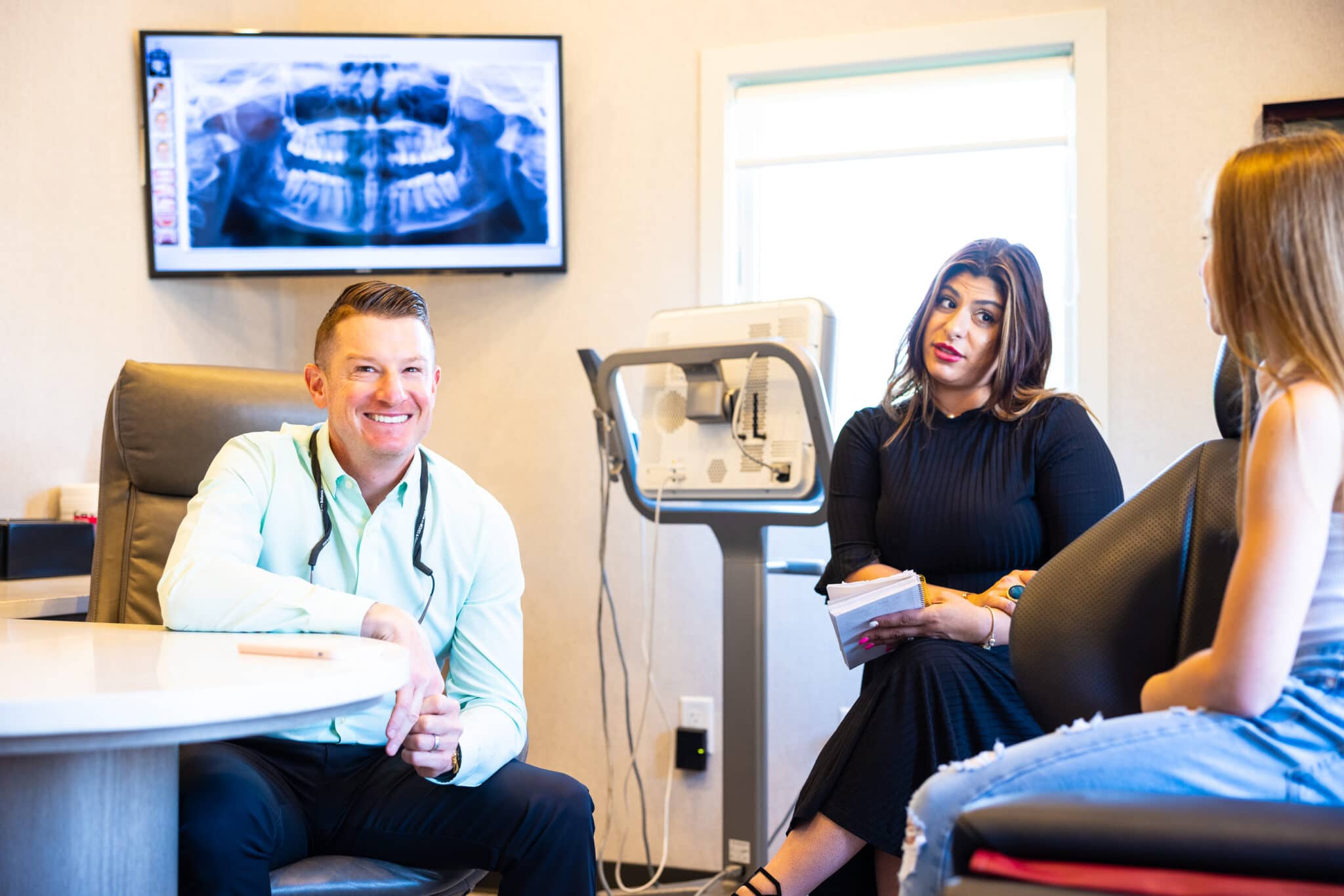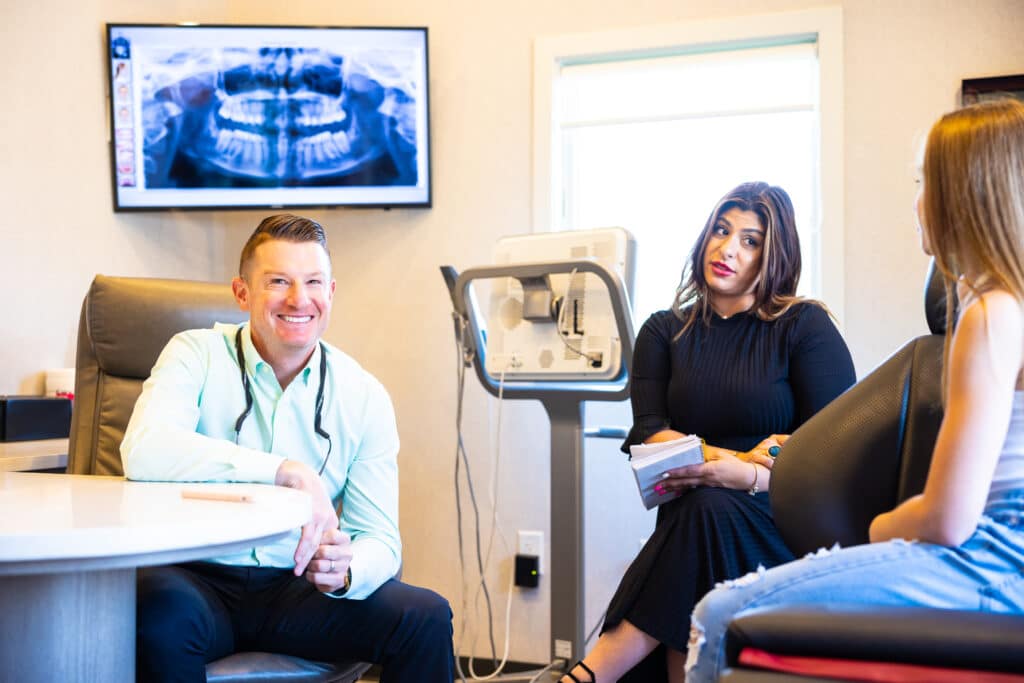 How Do I Pay for Braces?
This is the big question our patients or their parents have — how do I pay for orthodontic treatment? At Sacks Orthodontics, we offer patients a variety of payment options. Our goal is to make braces or Invisalign affordable for you.
We take several types of dental insurance, which often cover at least a portion of orthodontic treatment. We also accept FSA/HSA payments, covering the rest of the costs. Between those two, you could completely cover your treatment! Treatment coverage varies from one insurance policy to another, but we will work with your insurance company to determine just how much your policy covers.
We can offer low down payments or even no down payments for those without insurance! We also provide zero-interest, in-house financing with the option of extending your payments beyond your treatment time! This keeps your payments as low as possible.
What if more than one family member needs braces? No problem! Sacks Orthodontics offers family discounts! So if another family member of a patient needs orthodontic treatment, we can work with you to find the right group discount to lower your costs so that everyone in your family can get the smile they dream of.
A Lifetime Smile Guarantee
At Sacks Orthodontics, you get much more for your money than just a couple of years of treatment. You get a relationship that lasts a lifetime. We care about you and your smile, and we want to see you keep that perfect smile for years to come. That's why the cost of our treatment includes retainers, including Dentagrafix retainers, that will keep your smile beautiful throughout your life. We also have periodic checkups to ensure your treatment will continue to succeed because we care about your smile and your future.
If you're in the Livingston, NJ area, contact Sacks Orthodontics for your no-obligation, no-cost orthodontic consultation. We will work with you to make your orthodontic costs affordable because you deserve to have the smile of your dreams!