Covid-19 Procedures & Precautions Being Taken Here At Sacks Orthodontics For Your Safety.
---
Hello everybody,
As you know, your health, safety, well-being, patient experience, and clinical outcome have always been and remain our top priorities. As such, to further ensure the well-being of you, your family, and our team, we are implementing the following additional precautions for everyone's safety: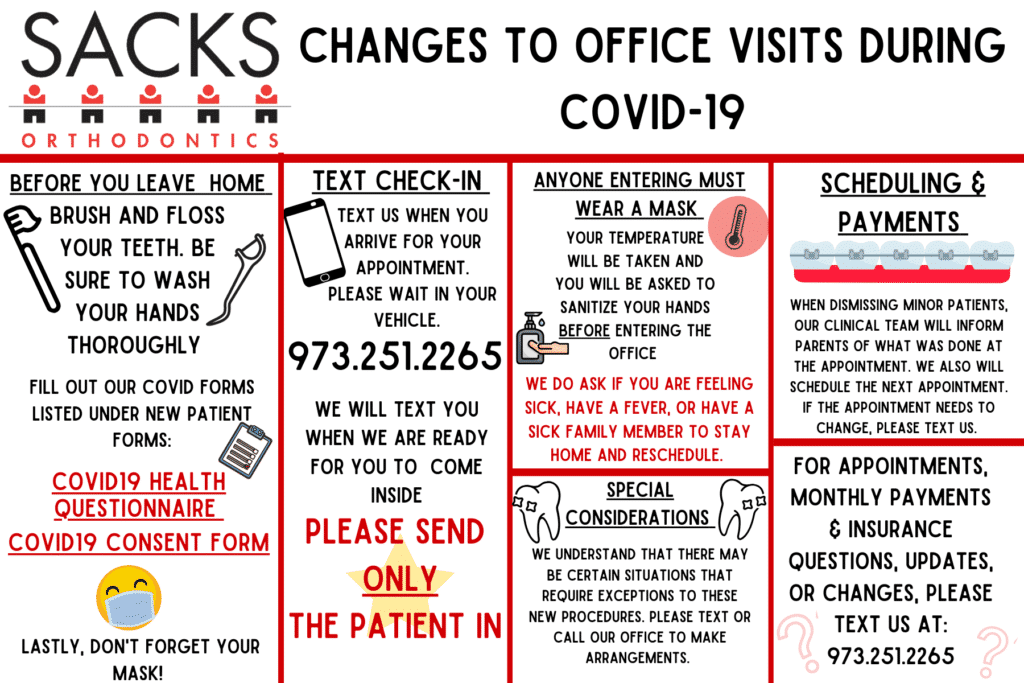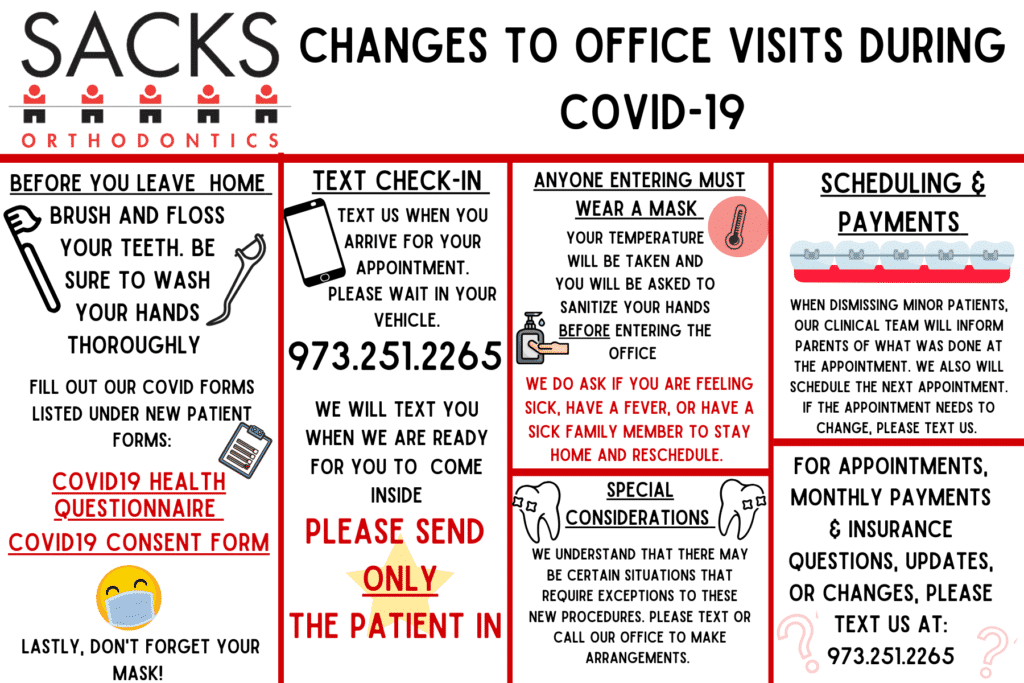 1) Being a free-standing building with no other tenants, we have the unique ability to control and screen anyone and everyone that enters our premises and will be doing so moving forward.
2) We will have a qualified liaison at the office entrance, utilizing strict protocols to determine if access to the building is to be granted. These protocols include but are not limited to:
Ensuring that pre-appointment text messages containing updated health histories and questionnaires have been satisfactorily completed and reviewed.
Taking temperatures using a no-contact infrared thermometer.
Making sure a mask is worn at all times (if you don't have one, we will provide one for you).
Hands are sanitized prior to entering.
Ensuring that only patients are granted access (not siblings, friends, etc). Other than for new patient consultations, or appointments where treatment recommendations need to be discussed, parents and/or any other persons accompanying patients will be asked to wait in their car. If absolutely necessary, one parent will be permitted to enter the office (provided they pass our screening protocol) but entrance will be limited to the reception area ONLY and social distancing must be maintained. Clinical areas will now strictly be reserved for patients and staff members.
3) For those entering the building, you will notice that our gaming station, coffee station, magazines, etc., have temporarily been removed to minimize unnecessary contact.
4) You will also notice that we took advantage of the free time in quarantine to convert our facility to an ALL DIGITAL one, thereby eliminating paper charts and forms. Scheduling, payments, progress updates, etc., will now be managed electronically via computer, text, email, and phone.
5) Our scheduling template has also been revised to further reduce the number of people in the office at once. Some appointments can, and now will be, performed virtually, and our days and hours of operation will be extended to help dissipate volume.
6) Our clinical chairs have always been and will remain more than six feet apart. Any aerosol-producing procedures (fortunately, there are very few of these in orthodontics!) will now only be done in a private, well-ventilated, isolated setting using newly obtained HEPA filtration units. You will also notice the introduction of medical-grade air purifiers throughout the office.
7) Hopefully, you have already noticed how seriously we take keeping our office clean, maintaining sanitary conditions, and keeping you and your family safe. While this is nothing new for us, as yet another layer of protection, our professional cleaning service will now include using a medical-grade, a biologically safe fogging procedure to ensure the safest, most hygienic facility possible.
8) Lastly, our clinical technicians will be using FDA-cleared KN95 masks with a Level 1-3 overlay for ultimate reciprocal protection.
We at Sacks Orthodontics always strive to go above and beyond for our patients. The modifications and the additional changes we have implemented in light of current events are certainly no exception.
Our commitment to you is unwavering and knows no limits. We are excited to see you soon and want you to START SMILING AGAIN!
Eric M. Sacks, DMD
Diplomate, American Board of Orthodontics